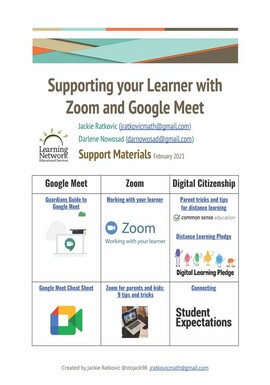 Parents, guardians, and teachers can access resources to support student growth and learning when school re-entry happens in September 2020. Find links for educational materials to develop literacy and numeracy, along with health and wellness information. Visit the Hub often for new resources and updates.
Parents may want to supplement student learning by providing their children with additional resources. The following provincial resources are available to parents:
• LearnAlberta.ca: more than 4,000 digital resources aligned with Alberta's K-12 curriculum.
• My Child's Learning: A Parent Resource: provides parents with information specific to each grade level.
Many Alberta school authorities have a variety of resources available to support parents and students in learning at home. Check with your local school division to see what is available.
Supporting Learning at Home (Alberta Regional Professional Development Consortia (ARDPC) 
Learning Guides for Parents (Edmonton Regional Learning Consortium)"What do parents/guardians need to know about..." to support parents/guardians in the understanding of key Alberta Education initiatives.
University of Alberta Free Online Education Resources for K-12
Supporting Learning at Home - Free Webinars through Nelson Publishing (Nelson - producing quality educational products and services in Canada.)