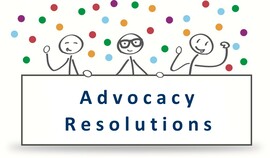 One of the most important events for parents on school council is the Association Annual General Meeting (AGM) held in conjunction with the ASCA School Councils Conference.
The ASCA 2024 Annual General Meeting is April 28, 2024 at the Delta Marriott Edmonton South.

The business meeting starts early, and continues until all resolutions proposed for policy are debated and voted upon, as well as election of the new governing Board.
Don't miss an opportunity to be involved, to be heard, and make a difference in public education.

Voting is your Voice
Parents on school council shape the future of Alberta's public education system with input through advocacy resolutions and voting at the ASCA AGM.
Call For Advocacy Resolutions ASCA AGM April 28 2024
Proposed Advocacy Resolution Submission Form 2024
Resolutions passed into policy at the AGM form the association perspective as presented to Alberta government and organizations in provincial education.
All school councils with current ASCA membership are eligible to submit Proposed Advocacy Resolutions and send parent representatives to vote on behalf of the school council at the ASCA Annual General Meeting.
Please contact the ASCA office if you are uncertain as to your school councils' current membership status.