Awards
Congratulations to the ASCA 2019 Awards of Recognition Recipients! Download document
Nominations will open in the fall for the 2020 Awards of Recognition. Deadline to submit nominations is February 28, 2020.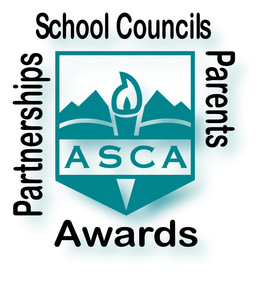 Alberta School Councils' Association is proud to present the awards of recognition in support of school council efforts in Alberta.
The School Council Award of Merit recognizes effective school council practices that have an identifiable impact on supporting student learning and school improvement at the school level, the district level or the provincial level.
The School Council Parent of Distinction Award recognizes an individual who demonstrates ability to promote parental engagement and involvement in the public education system. Truly exceptional in their dedication and initiative, this individual has dynamic leadership qualities and encourages opportunity to influence student learning success in the school community.
The Excellence in Learning Partnerships Award recognizes partnerships that include the school council, and support parent and community involvement in education to benefit the community and enhance the learning experience of students.
The Division School Council Engagement Award recognizes effective, inclusive, and collaborative system-wide practices that, through the efforts of a division-wide, multi-school council organization of representatives, has an identifiable impact supporting school council efforts to benefit student learning and school division success.
The Alberta School Councils' Association congratulates the award recipients for outstanding service to their schools and communities.
Awards 2016 Presentation Photos