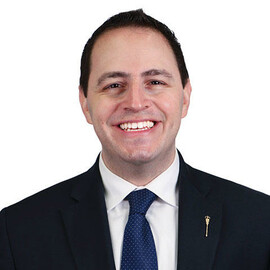 Minister Demetrios Nicolaides
Minister's Letter to Parents Resuming engagement on draft K-6 Social Studies curriculum (September 18, 2023)

Minister Nicolaides' Back to School Letter (September 2023)

Demetrios Nicolaides was sworn in as Minister of Education on June 9, 2023.   Mandate Letter July 2023   
He previously served as the Minister of Advanced Education.
Prior to his service as an elected official, Mr. Nicolaides served as the head of the Calgary office for a national communication-consulting firm. In this role, he worked with senior business leaders across Canada and Alberta, working closely with key players in Alberta's energy sector.
An expert in conflict resolution, he has extensive training in arbitration, is an accredited mediator and has a PhD in the field. Mr. Nicolaides was active in peacebuilding and reconciliation activities in Cyprus and has consulted in high-stakes arbitrations and regulatory hearings in Alberta, B.C. and Manitoba.
Mr. Nicolaides is a born and raised Calgarian and long-time resident of Calgary-Bow. He lives in Cougar Ridge with his wife and 2 daughters, and volunteers extensively in his community.
Demetrios Nicolaides was first elected as the Member of the Legislative Assembly for Calgary-Bow on April 16, 2019 and was re-elected on May 29, 2023.