S O G I
SOGI 1 2 3 - SOGI 1 2 3 Alberta Information VIDEO (6:43 minutes)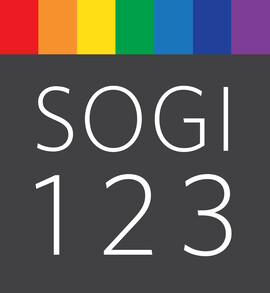 SOGI 1 2 3 is an initiative that helps educators make schools safe and inclusive for students of all sexual orientations and gender identities (SOGI).
ARC Foundation & Alberta School Councils' Association Collaboration Agreement (PDF copy)
"In consideration of the mutual participation requirements set forth in this Agreement, ASCA agrees to collaborate with ARC Foundation on its SOGI 1 2 3 program and commits to the terms and conditions contained in this Agreement. The parties wish to provide leadership to support SOGI-inclusive education, help schools to build inclusive cultures, and provide educators and parents with K-12 tools and resources."
ARC Foundation        https://www.sogieducation.org/           
SOGI 1 2 3 Website & Resource Guide
For over 5 years in Alberta and British Columbia, SOGI 1 2 3 has helped build the capacity of educators to make schools inclusive and safe for students of all sexual orientations and gender identities (SOGI) by providing resources and tools, by and for educators, to integrate into the classroom and school environment.
SOGI 1 2 3 programs are active in 67 school divisions across Alberta and British Columbia. The six divisions in Alberta include the Edmonton Public School Board, Sturgeon School Division, St. Alberta Public Schools, Aspen View School Division, Fort McMurray Public Schools, and Elk Island Public Schools.
The SOGI 1 2 3 website covers three main components: SOGI 1 = polices and procedures; SOGI 2 = inclusive environments; and SOGI 3 = teaching resources. Additionally, the All Educators Page provides easy-to-access to relevant topics and solutions provided by other educators.
Here are some helpful ways to create welcoming and inclusive environments and some tips to celebrate Pride inclusively.
June is Pride Month
Groups providing SOGI-related resources directly to schools https://ab.sogieducation.org/links
What is SOGI ?
SOGI stands for sexual orientation and gender identity. Learn more ...
Creating SOGI-inclusive education is essential for schools. Learn more...