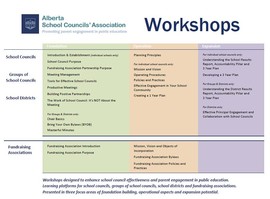 Workshops are available for ASCA members, delivered in local communities.
Workshops designed to enhance school council effectiveness and parent engagement in public education.
Learning platforms for school councils, groups of school councils, school districts and fundraising associations.
Presented in three focus areas of foundation building, operational aspects and expansion potential.
Workshops for school councils, groups of school councils, school districts