Virtual Engagement Event
November 27, 2021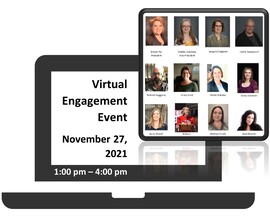 School Council Engagement Opportunity
The Alberta School Councils' Association (ASCA) Board of Directors invites you to participate in a Virtual Engagement opportunity.
Saturday, November 27, 2021
1:00 pm – 4:00 pm
AGENDA (PDF)           Polling Questions                  Member Perspective Polling Results
Engage with the ASCA Board of Directors on topics of importance to school councils and their communities: the current education environment, the draft K-6 curriculum, the Alberta School Council Engagement grant, the Assurance Framework, and information about ASCA's Proposed Advocacy Resolutions process.
Cost to attend is at no charge for parents/principals/teacher reps/student reps attending from ASCA Member School Councils. Attendees from NON ASCA Member School Councils may register for a $25.00 fee.
Presented via Zoom Conferencing Webinar platform.  Join from a PC, Mac, iPad, iPhone or Android device.
Registration required in advance.
REGISTRATION CLOSES MONDAY NOVEMBER 22ND AT 4:00 PM
Door prizes will be drawn for attending school councils!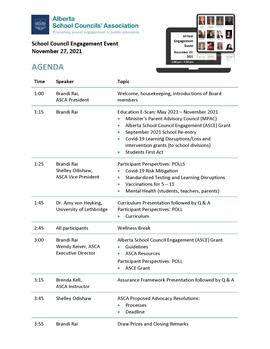 School Council Engagement Event November 27, 2021