School Councils in Alberta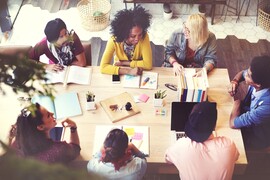 School Councils, including "Parent Councils", Parent Groups and Groups of School Councils - also known as "Councils of School Councils" or COSCs.
(Please note – this does NOT refer to groups that are registered with Alberta Corporate Registries as associations, councils or societies - incorporated under the Societies Act, eg. Fundraising Associations) 
School councils are structured groups of parents, principals, teachers, secondary students, and community representatives who work together to effectively support and enhance student learning. They provide a method for members of the school community to consult with and offer advice to the principal and the school board.
Parents play a vital role in student success and can participate in decisions that impact student learning through school council. By contributing knowledge, perspective and ideas at school council or COSC meetings, parents are actively contributing to school community and school district success.
The Government of Alberta recognizes the value of parents and the community in the education of children, and by law requires school councils in every school operated by a school board in Alberta.
Established school councils:
focus on what is best for all students in the school
consider the interests of all school stakeholders
develop, maintain and reflect the culture of the school 
represent the parent voice in the school community 
The Alberta School Councils' Association (ASCA) provides support and resources, including knowledge and skill development, consultation and learning opportunities, to enhance meaningful parent contribution and participation in school councils and COSCs across the province.