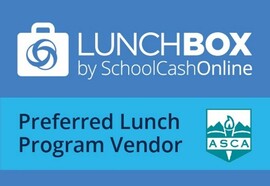 We know that managing a lunch fundraising program is time consuming and can be stressful to organize.
Which is why we've partnered with Lunchbox. With Lunchbox you get a full-service, online ordering solution that simplifies the entire process. Your program is managed from start to finish by a dedicated team.
It's a lunch program that does it all – so you don't have to. It frees up 5+ hours per week to allow you to focus on other fundraising initiatives for your school.
Lunchbox offers:
Time savings of 5 hours or more per week
Meals that arrive in a grab-and-go format labeled by student and organized by classroom
A way to earn fundraising dollars with every item sold
'Give A Lunch' feature so that every student can participate
Easy, one-stop shopping for parents/guardians who can order meals for all their children at once
The most secure ordering & payment solution on the market (PCI DSS Level 1 certified)
Nut-free, allergy-aware meals prepared under strict food handling protocols
A customer support team that cares deeply and ensures your program runs smoothly
No setup or registration fees
Best of all, we've negotiated an exclusive offer for ASCA members who sign up for Lunchbox. You'll earn a $150* credit to your Lunchbox fundraising account after 6 continuous months of activation.
Sign up for a webinar to learn more!
The Lunchbox Team will be holding informational sessions for ASCA members starting early September. Click here to select a date and register.
Get started today!
To get started now, sign up here. You'll complete a short form and a Lunchbox Program Consultant will touch base in 24 hours or less to discuss next steps and answer any questions you might have.
*Terms and conditions apply.