< Back to Blog
Aspen View Public Schools Support Letter for ASCA to Minister LaGrange
Posted on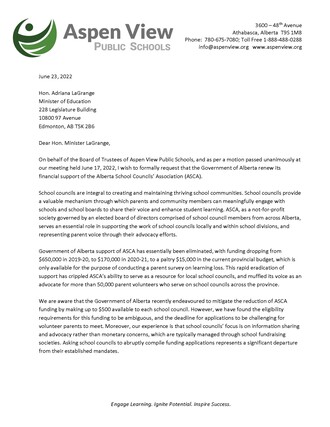 Dear Hon. Minister LaGrange,
On behalf of the Board of Trustees of Aspen View Public Schools, and as per a motion passed unanimously at our meeting held June 17, 2022, I wish to formally request that the Government of Alberta renew its financial support of the Alberta School Councils' Association (ASCA).
School councils are integral to creating and maintaining thriving school communities. School councils provide a valuable mechanism through which parents and community members can meaningfully engage with schools and school boards to share their voice and enhance student learning. ASCA, as a not-for-profit society governed by an elected board of directors comprised of school council members from across Alberta, serves an essential role in supporting the work of school councils locally and within school divisions, and representing parent voice through their advocacy efforts.
The origins of ASCA date back to 1929. For more than 90 years, it has served an essential role in supporting the important work of school councils and facilitating the voice of parents towards the continued enhancement of education in Alberta. We call on the Government of Alberta to recognize ASCA's value and validity by reinstating the funding support it receives.