School Councils Stand for Education Hopeful Conversations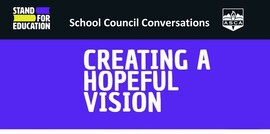 DEADLINE TO SUBMIT INPUT was FEBRUARY 17TH
Share a hopeful vision for public education generated by discussions in advance of the 2023 provincial election.
Share your wisdom and create a hopeful vision for public education in Alberta!
The Alberta School Councils' Association (ASCA) is asking all school councils, regardless of ASCA membership status, to participate in the Stand for Education public engagement process to gather input from parents, educators, and others in the school community.
We want to hear from school councils about the top changes they would like to see the Alberta government make to improve education!
ASCA is working with the Alberta Teachers' Association to collect and analyze public feedback. Based on the input received, a bold, hopeful vision for education will be developed, shared publicly, and used to engage all political parties in the lead-up to the provincial election in May, 2023.
ASCA is asking school councils to include a short, facilitated discussion (15 - 20 minutes) at an upcoming school council meeting to gather parent/guardian responses to the question –
"What are the solutions you would like to see the Alberta government implement to improve education for your children and/or school?" 
Download the Hopeful Conversations Guide
Provide feedback at ASCA - Stand for Education Hopeful Conversations