Rally for Public Education
The rally unites teachers, parents and their allies as they stand together in support of a broadly shared vision for public education.
The rally focuses on what public education should and could look like in Alberta.
It serves as a kickoff of the next phase to engage teachers, parents and others across the province in a series of roundtables to set out a bold vision for public education for the present and the future.
It will provide an opportunity to create a public conversation about what is needed to have a strong, modern public education system.
"To define and bring forward a vision for a strong and supportive public education system in Alberta which allows all students to reach their full potential."
Let's send a message to all parties that investing in public education matters to Albertans!
Plan to arrive at the Legislature between 11:30AM and 12:30PM so that you can:
Grab some lunch or a snack at one of the food trucks on 99th Avenue
Make your own sign in the rally tent by the ATA statue on the East side of the Legislature grounds
Enjoy some live music from the steps of the Legislature
Take photos to share on social media
Post a short video of yourself at the rally about why you are Standing for Public Education
Pick up a rally scarf
Find stickers, temporary tattoos and face painting for the kids
The formal rally program is from 1:00 – 2:00 pm and will include a mixture of inspiring speakers, music, and other entertainment.
Download the Frequently Asked Questions (FAQs) about the Rally - Transportation, Accessibility, Hotel Accommodations, Schedule, Security, Washrooms, Guidelines...
View the special edition of the ATA eNews on the Rally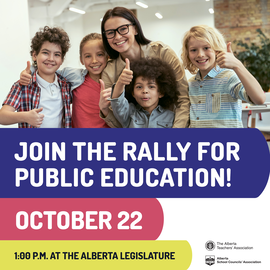 We're rallying together to make public education better for all students.
Everyone is welcome to this fun, family-friendly event!
The rally is an opportunity to celebrate what we've achieved for Alberta's public education system.
With months to go before the next provincial election, it's time for everyone to take a stand for the future of public education in Alberta and make public education a priority in the next election.
Now is the time to send a clear message to all political parties that public education is one of the most important investments to make in the future of our children and this province.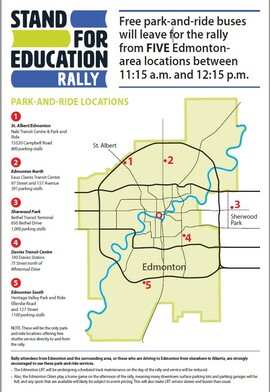 This FREE event will include:
Family-friendly activities
Inspiring speeches
Live music
Food Trucks
And more
Visit www.StandForEducation.ca to sign on, stay informed, and book transportation!
Reserve a seat on a Stand for Public Education charter bus to Edmonton
"Park and Ride" buses are being organized from various locations around Edmonton
Alberta Teachers' Association President Jason Schilling and Brandi Rai, Alberta School Councils' Association president, issued this statement in recognition of a new school year and the two Associations' continued stand for public education.