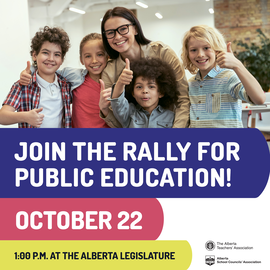 We're rallying together to make public education better for all students.
Everyone is welcome to this fun, family-friendly event!
The rally is an opportunity to celebrate what we've achieved for Alberta's public education system.
With months to go before the next provincial election, it's time for everyone to take a stand for the future of public education in Alberta and make public education a priority in the next election.
Now is the time to send a clear message to all political parties that public education is one of the most important investments to make in the future of our children and this province.