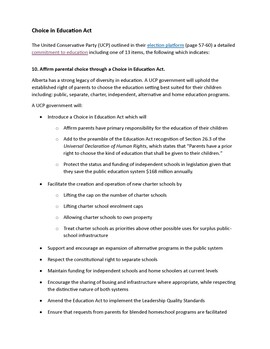 In anticipation of the upcoming Choice in Education Act from Alberta Education, the ASCA Board of Directors is seeking school council community perspectives on what choice in education means to them.
Request for input regarding Choice in Education

It is known that the Minister of Education will begin work on the promised Choice in Education Act, for tabling in the spring of 2020. The Minister has indicated that consultations will be forthcoming, and it is highly anticipated that ASCA will be asked to contribute to consultations related to the contents of the Act.
At this time, ASCA has no distinct Advocacy Policies that represent Member perspectives related to Choice in Education. It is also possible that ASCA Member School Councils are not aware that greater access to alternative programs, like languages, sports, and other disciplines, is not likely what is intended with the Choice in Education Act.
The United Conservative Party (UCP) outlined in their election platform (page 57-60) a detailed commitment to education including one of 13 items, the following which indicates:
Affirm parental choice through a Choice in Education Act.
Alberta has a strong legacy of diversity in education. A UCP government will uphold the established right of parents to choose the education setting best suited for their children including: public, separate, charter, independent, alternative and home education programs. (Click here for the entire excerpt)
Please submit feedback by November 2, 2019.