Honouring Spirit: Indigenous Student Award Recipients 2018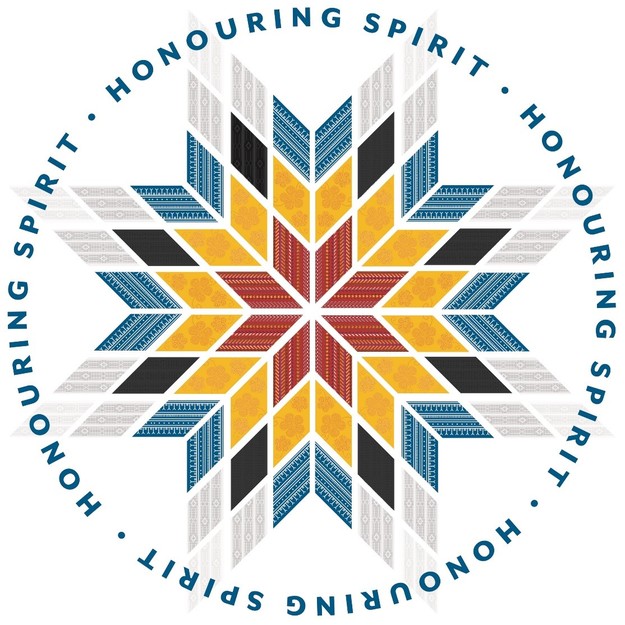 These awards recognize First Nations, Métis and Inuit students who model strength and commitment in the pursuit of their personal education path and embrace their own gifts, strengths and potential, while celebrating the ways of their people.
The Honouring Spirit logo reflects the direction of the ASBA Indigenous Advisory Circle to have the Award recipients gifted with star blankets. The logo brings First Nations, Métis and Inuit cultures together within the beauty of the star while honouring unique aspects of each culture. The Métis are represented by the sash design in red diamonds; the Inuit through designs reminiscent of traditional tattoos in the blue diamonds. The Cree and Dene are honoured in the yellow diamonds through a floral motif; and the Blackfoot, Nakota and Tsuut'ina are represented in the grey diamonds, with a beading inspired geometric design.
Each Award recipient's certificate is individually created with the logo presented in the language of his/her Nation or community.
ASBA is proud to announce the 12 award recipients:
Grades K-3 category:
Mihko Crowchild – Calgary Catholic, St. Cyril Elementatry/Junior High School
Fabien Bourke-Tourangeau – Edmonton Catholic, Our Lady of Peace Catholic Elementary School
Chloe Verhaeghe – Greater St. Albert Catholic, Neil M. Ross Catholic School
Grades 4-6 category:
Taylor Golosky – Fort McMurray Public. Dr. K. A. Clark Public School
Tacey Rabbit – Livingstone Range SD, W.A. Day School
Mylee Yellowbird – Wolf Creek SD, Ponoka Elementary School
Grades 7-9 category:
Salima Thibault – Fort McMurray Public, Ecole McTavis Junior High Public School
Wyatt Delver – St. Paul ERD, Ashmont Secondary School
Lenaisha Day Chief – Westwind SD, Spring Glen Junior High School
Grades 10-12 category:
Ryleigh Grant-Turner – Grande Prairie Public, Charles Spencer High School
Aydan Desjarlais – Lakeland Catholic, Assumption School
Treasure Yellow Old Woman – Siksika Board of Education, Siksika Nation High School