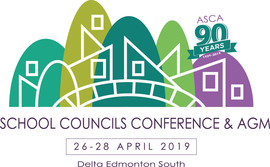 SPONSORSHIP OPPORTUNITIES FOR THE ALBERTA SCHOOL COUNCILS CONFERENCE AND AGM

Do you want to reach parents on school councils in Alberta to promote your organization's products or services?
Sponsorship includes company logo on the Alberta School Councils' Association (ASCA) website for 12 months and promotion in event print materials.
Promoting parent engagement in public education, the Alberta School Councils' Association (ASCA) presents its School Councils Conference and Annual General Meeting (AGM) at the Delta by Marriott Edmonton South Conference Centre April 26 - 28, 2019.
Providing development sessions, information sharing and resources for the school community, the provincial event offers attendees an opportunity to engage with the Education Ministry and network with other school council members from across Alberta.
The ASCA provincial conference hosts up to 350 delegates over 3 days, attending from across Alberta. Attendees include parents, community members, students, teachers, principals, superintendents, and school board trustees, as well as government and organizations involved in public education.
We are seeking financial support to cover expenses for the event. We strive to keep the cost for parents as low as possible to travel and attend the event.
In return for sponsorship, your organization will become a visible and valued partner in the event along with others in the education community. A charitable tax receipt will be issued.
For sponsorship options and details, please click here.
(SELECT SPONSORSHIP AND PAY ONLINE Opens at 12 noon February 1st).  Online Link

Click here for the event brochure.
If you have questions, require more information, or would like to discuss additional sponsor opportunities, please contact Jolaine at jolainek@albertaschoolcouncils.ca  or 1-800-661-3470 or 780-451-7149 (Edmonton) direct.
Thank you for your support!